Interactive Media
I have always been very fascinated by technology and interactive spaces. Over the years, I have designed various new media projects, developed several interactive games, and have grown a reputation for my research in games for social change. As an Interactive User Experience (UX) and User Interface (UI) designer, I specialize in creating sophisticated physical and digital experiences that are unique, profound, and easily accessible from a human perspective. This section of my portfolio features samples of my work in interactive technology and experimental media.
An/Other is a short 3D interactive video game for social change that explores issues in society, challenges players' perspectives on the matter, and attempts to change how people think about games. Released on August 31, 2015, An/Other is based on extensive research with an 80-page research paper available. It is recommended to play the game fully before reading the paper.
An/Other is my major research thesis project on Games For Social Change for Master of Arts in the Media Production program at Ryerson University. An/Other was exhibited at Media Mix 2015, the Hand Eye Society's Game Curious 2016 – Identity, and Game Furious seminars, and the 2016 Toronto Comic Arts Festival's Comics Vs. Games Exhibition. An/Other has also been featured in the news reports by the Torontoist, The Toronto Star, Metro News, and CityNews Toronto and was discussed on the radio program Mediation Station. An/Other and my research on Games For Social Change were also presented for the Principles of Game Design course at Sheridan College, where I was invited ro speak as a guest lecturer on three ocassions in 2017.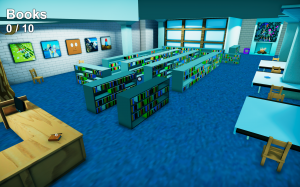 Oakbook is a short interactive game developed for the Oakwood Village Library Artist Residency program to inspire people to explore their local library and find adventure on every shelf. Released on February 15, 2018, Players receive a dire warning about an evil spirit trying to break free and must go on an surprising adventure to repair the seal by scouring the library for books.
The Artist Residency, held by the Hand-Eye Society and the Toronto Public Library had a roster of artists make games and interact with the Oakwood community. As an Artist-In-Residence for the Game Curious program from September – October 2017, I wanted to made a game that not only inspired people to appreciate libraries, but was also something the Oakwood community could see themselves in, with their library as the main setting. It was started during my residency and worked on during the following months. This is also my first game to feature Voice Acting, as I play both major characters. Oakbook was showcased to the Oakwood Community on January 12, 2018, prior to its February 15 release.
Click here to play Who Are You?
Who Are You? is a psychological 3D video game that challenges our perception of identity and forces players to reflect on their personality throughout a series of questions, culminating at a conclusion where players learn what their choices say about themselves. Do they accept the results as who they truly are? Is there any meaning in the result or was their journey more important? That is a question only they can answer.
Who Are You? was my New Media undergraduate thesis project and was released on March 20, 2014. It was featured in the META 2014 New Media Graduate Exhibition, the 2014 Level Up Showcase, and the Ryerson University Transmedia Zone.
Joyspark Video Game Interface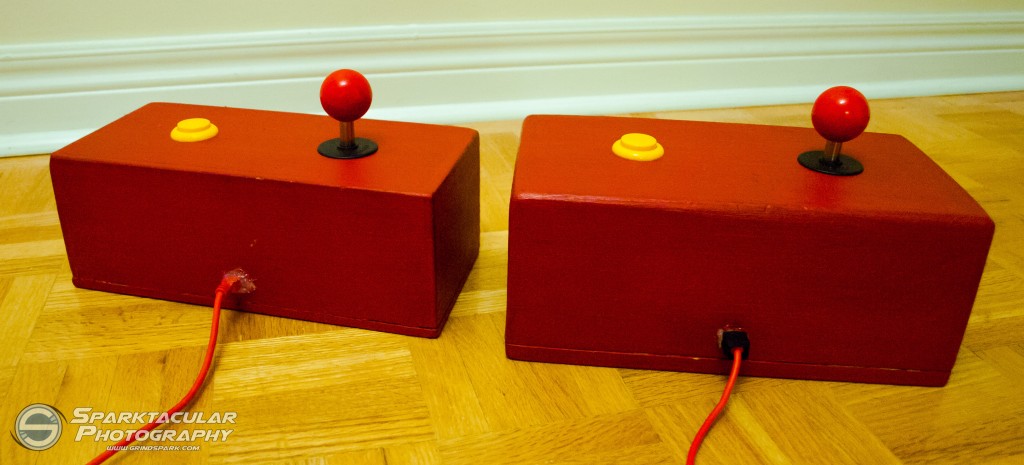 The Joyspark controllers are custom video game controller interfaces I created for gallery exhibitions featuring my video game projects. Originally developed for Who Are You? and used for An/Other with the aid of a mouse, the Joyspark controller features a joystick and a single button to simplify the user interface and ensure an accessible experience. Inside the smooth red wooden box, the components are wired to a Makey Makey circuit board powered by USB. The inner parts can be accessed via unscrewing the bottom. Several prototypes were developed, and two finished controllers were crafted. They have been used as the main interface for all gallery showings of Who Are You? and An/Other.
This simplified interface was designed to make my games accessible for all users and audiences during gallery showings, without the complexities of modern controllers/keyboards or any need for explanation. This has proven successful at several exhibitions and events as the controller not only becomes an inviting focal point that attracts attendees, but is easily understood by users interacting with the project regardless of my presence or their age and familiarity with video games. This ensures a high ease of use and better overall experience.
Sparky Konga
Click here to access the source code and Unity Files.
Sparky Konga is an interactive audio-visual experience featuring the Nintendo DK Bongo controllers. The interactive Unity application was designed to allow anyone to have fun making music. The source code, however, was made in Pure Data and designed to be an open source library/framework for anybody who wished to develop games or new media applications using the DK Bongo Controllers.
Sparky Konga was featured in the New Media section of the Maximum Exposure 2013 gallery exhibition.
3D Printing
I have a long history of creating projects using 3D Printing Technology. At Ryerson University, I was one of the first students to independently master 3D printing and used it in combination with my 3D modeling skills. I have since made several substantial art pieces with the technology and often teach it to others in Makerspaces across Toronto. Notable projects include a 3D Portrait Project, where I hacked a Kinect to 3D scan my Grandmother from multiple angles and print out a bust of her, my Millennium Puzzle, a prop I modeled, resin coated, and painted based on an object from the Yu-Gi-Oh! anime, and original 3D art projects I've made for myself or as gifts. You can view my work at the gallery photos above.
Novint Falcon Hacking Projects

These project utilized a specialized haptic video game controller called the Novint Falcon. The goal of these projects was to hack the Novint Falcon controller and re-invent how it could be used. For the Falcon 3D Drawing project, I have used its capabilities as an input device with Processing and Max/MSP to allow for 3D drawings in virtual space. Users can switch between different modes and save pictures of their creations. Alternatively, for The Falcon Draw Project, myself and my colleague, Beverly Duong, use similar methods to reverse-engineer the functions of the Novint Falcon. This turns it from an input device to an output device using the controller's internal motors to move a marker that draws due to an abstraction of gestures performed by a user on a drawing tablet.
The Blind Bug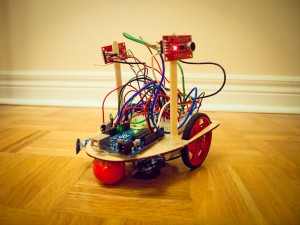 The Blind Bug is a small robot that operates purely based on sound. Created with an Arduino and sound sensors, the Blind Bug will roam independently around environments and react based on its proximity to what it hears. If it hears a sound far away, it will be curious and investigate. If the sound is too loud and too close, it will turn around and run away. In addition, mandibles, powered by small motors give personality to the Blind Bug, moves in accordance to how it feels. The result is a robot that feels like a living entity that behaves based on the what it hears in its environment.
Pong Drawing Machine V1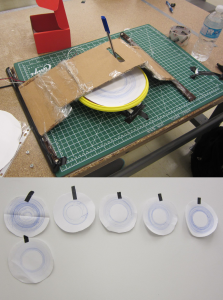 This project was a class assignment tasking students to make a controller for the classic game PONG. My PONG controller doubles as a drawing machine, using an Arduino and a slider attached to a pen. Beneath the pen is a motor attached to a plastic cover holding a circular piece of paper. While playing PONG with this controller, the motor underneath spins the paper beneath the pen, drawing lines as it spins and the pen moves. The result is a unique, one-of-a-kind art piece record of a game of PONG in the form of the user's paper. While the interface was crudely constructed it, was quite stable stable and fit the concept of the design.
Class presentations were followed by a class PONG tournament with everyone using their own controller interfaces against each other. The precision and stability of my PONG Drawing Machine controller interface allowed me to win the entire class PONG tournament, whilst drawing a unique record of it in the process.